Christmas Fire Safety 2020
11/4/2020 (Permalink)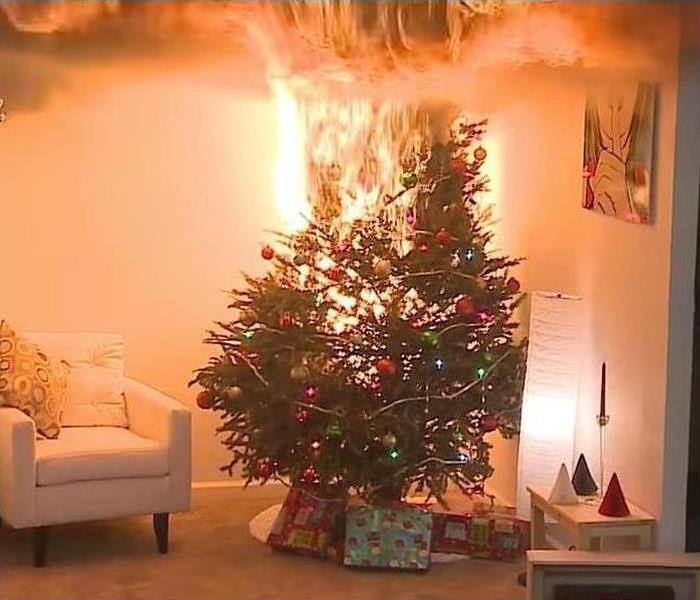 This photos shows how quickly a dry Christmas tree can be engulfed in flames when left near a heat source. Image by nfpa.org
I know it seems early to be talking about Christmas. We haven't even bought the ingredients for our giant Turkey for Thanksgiving! But Holiday safety is best to be discussed as soon as we start seeing those twinkling lights and tinsel in the stores. Before you start your holiday decoration planning, always remember to check for possible fire hazards.
Here is a quick checklist for things to look for. You can find more information on the Red Cross Website:
Check all holiday light cords to make sure they are not frayed or broken. Keep strands of lights to no more than three per extension cord.
Make sure your tree is watered and kept fresh so as not to dry out. For artificial and fresh trees, make sure you keep away from fire hazards. And of course once Christmas is over make sure you dispose of your tree properly and DO NOT leave to dry out in your backyard.
Keep candles away from decorations and make sure you blow them out before going to bed.
When cooking on the stovetop, make sure you stay in the kitchen. Kitchen fires are still the leading cause of most house fires.
When decorating outdoors, use outdoor approved lights and follow the fire hazard prevention labels.
Check out the NFPA for more information on fire safety. Make sure you review the fire safety plan we discussed in our October Blog with your family.
Be Safe this Holiday! And know that SERVPRO of Northwest Ventura County is always here for you when you need us 24/7!
805-507-5507