It's The Hidden Water Damage You Don't See
11/18/2021 (Permalink)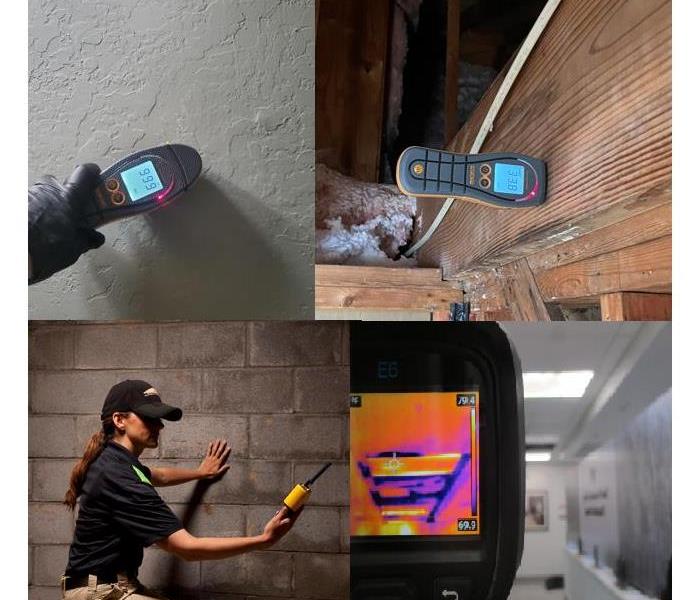 All these tools help SERVPRO of Northwest Ventura County be ready to assess your water damage. 805-507-5507
After a water loss, you may be quick to dismiss the need for mitigation services. You don't see any physical damage to your drywall or floors. You may not feel that the wall or floor is wet when you touch with your bare hands. As we know in this industry, looks can be deceiving.
Professional Restoration Technicians have the right tools to detect moisture in your home or building. Below are just a few of those tools and how they help identify trapped moisture:
-Moisture Meters: This tool helps measure the moisture level on surfaces. Can detect moisture from .25''-.75'' deep. It is non-penetrating and wont damage surfaces.
-Pin Moisture Meter: These have two metal probes that you can physically stick into wood framing in order to get a moisture reading. And electrical current will flow between the two prongs and measures resistance. Since wood does not conduct electricity and water does, we can get an accurate reading based on the resistance measured.
- Thermohygrometers: Measures the relative humidity and temperature of the atmosphere. Many people don't realize the science behind drying methods. A lot of our atmospheric climate will determine the method of drying used to dry affected materials.
-Thermal Imaging Moisture Meter: Thermal imaging detects subtle temperature differences which can point our technicians in the right direction. Moisture can be very difficult to detect because at times, you may not see physical damages with the naked eye. This allows us to narrow down the field of vision.
Check out our website for more information on the water assessment process.
Give SERVPRO of Northwest Ventura County if you suspect water damage 805-507-5507