Water Damage Countdown
9/21/2021 (Permalink)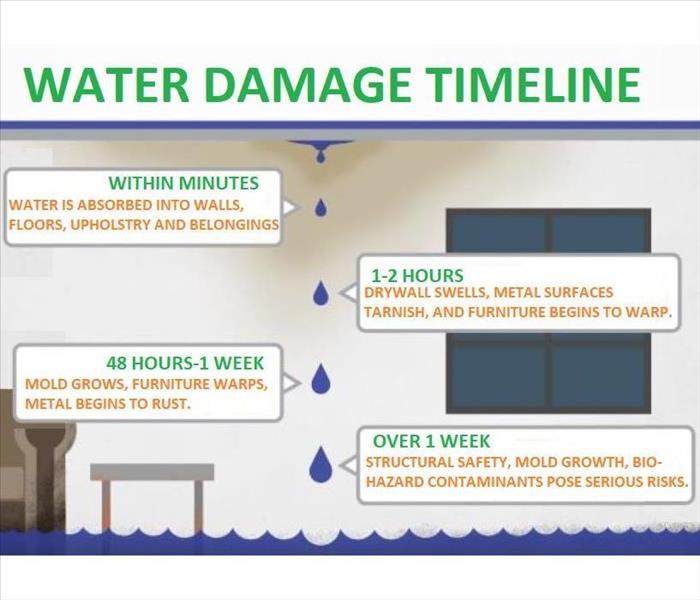 No matter where you are on your water damage timeline, SERVPRO of Northwest Ventura is here to help! 805-507-5507
Water damage a day ago? Week? Month? Is it too late?
The problem with water damage, is it can be difficult to assess how bad it really is without the proper tools. You can soak water up with a towel and put a fan on it, but how sure are you that the moisture didn't travel into other areas of you home?
A typical water damage timeline looks like the following:
MINUTES AFTER LOSS: Water will absorb into materials such as your drywall, furniture and flooring.
1-2 HOURS AFTER LOSS: You will see swelling and warping of walls, flooring and cabinets.
48 HOURS TO 1 WEEK: Water will continue spreading through crevices if left unattended. You may start to notice mold growth. You may see materials splitting or cracking and deterioration. Note that at this point in time your affected area could have doubled in size from day 1.
OVER 1 WEEK: Mold growth will be present, there could be structural safety concerns. Removal of affected areas would be required.
So is it ever too late for SERVPRO to help? Never! We can help you at any point of your water damage timeline. Just keep in mind that the longer you wait the more work that will need to be done to get you back to life. CALL US 805-507-5507